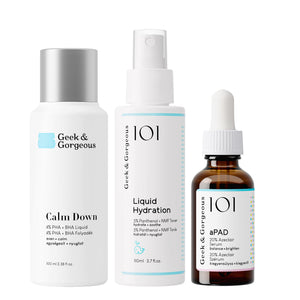 description
The Keep Calm Kit contains three products perfect for everyone with sensitive, redness-prone skin. Calm Down is a super-gentle exfoliant with 4% PHA+BHA acids that work to give a healthy glow, while soothing, protecting, and hydrating the skin. Liquid Hydration is our soothing toner spray with 5% Panthenol + NMF components. aPAD is a light-textured Azelaic Acid derivative (Potassium Azeloyl Diglycinate, or PAD) serum to even the skin tone and calm the skin.
You can find more details about the individual products here:
Good to know: the kit is not gift wrapped, but contains the three products individually.
Cruelty-free | Vegan | Fragrance & Essential oil free | Gluten-free | Pregnancy-safe
how to use it?
After cleansing your skin, use Calm Down exfoliant first using a cotton pad or tapping it into the skin with your hands. Depending on your skin's sensitivity, use it once a day or every other day in the evening. Follow with Liquid Hydration toner spray, then aPAD serum.
A possible routine for sensitive skin, including the three products from the kit:
☀️ MORNING
Rinse with water / your favorite cleanser
Liquid Hydration
aPAD
Optional - other serums and/or your favorite moisturizer
Sunscreen with SPF
🌙 EVENING
Cleanse with your favorite cleanser (our tip: Jelly Joker)
Calm Down
Liquid Hydration
aPAD - can be used once or twice per day
Optional - other serums
Your favorite moisturizer
See more how to use information at the individual product pages.